"SEO Entrepreneur Shahe Imran Imon"
It's no secret that the internet has had a profound impact on our lives, and its dominance continues to grow. SEO Entrepreneur, Shahe Imran Imon, (Certified by Moz Academy and SEMPO) knows this better than anyone.
It's no secret that the internet has had a profound impact on our lives, and its dominance continues to grow. SEO Entrepreneur, Shahe Imran Imon, (Certified by Moz Academy and SEMPO) knows this better than anyone.
SEO is one of the most important foundations of modern marketing. It's crucial to understand the difference between old-style SEO and modern techniques, in particular, there are huge differences between them! Imon has extensive knowledge of SEO strategy. He makes a point of staying at the forefront of current SEO.
"The reality here is if you are not up to date and aware of current Google rules and search criteria, you might not as well be playing Game of Thrones. Out-of-date SEO couldn't win the Game of Thrones in the modern market." – Imon Says.
Imon also added that, "SEO is an art, not a science. It takes experience, intuition, and expertise to discover it the right way. And it's about understanding the dynamics of search engines and their users and then creating a plan to get your website to rank higher in the search results." Today, search engine optimization (SEO) is more important now than ever before. Search engines, like Google which possess the ability to crawl and index every corner of your life through its algorithms and data analysis, can help you enormously by positioning you in front of potential customers. As an expert in this industry, Imon's mission is to help individuals and brands leverage SEO to gain more traffic and leads on their online platforms. The Algorithm that he designs, and strategies that he applies help them expand their audience, reach, and engagement.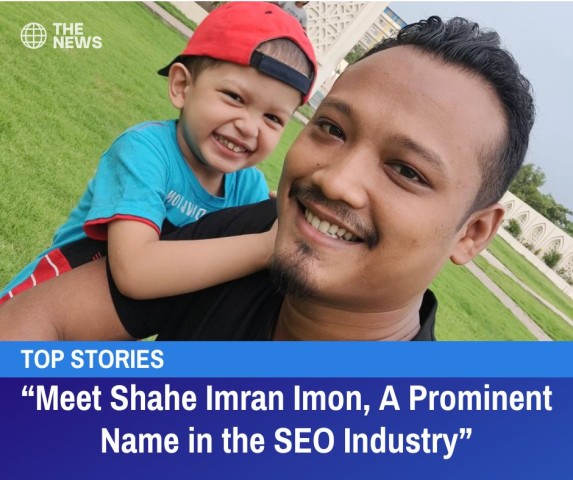 Early life:
Shahe Imran Imon was born on November 11, 1988 in Chittagong, Bangladesh. He proceeded to attend Bangladesh Navy School and College, Chittagong for his HSC from 2007 to 2009.
After 10+ years in the digital marketing space, Imon has developed a unique approach that makes him one of the best in the industry. An early adopter of the internet, he developed a passion for SEO in 2010 when finding the right SEO expert seemed difficult. During this period he got several projects to boost the rankings of his client's websites on Google. Throughout the project, Imon studied the Google algorithms and discovered several ways of improving a website's ranking. Since then, Imon's work ethic and enthusiasm for the digital space have kept him on top of the game, and is a respected authority in his field.
Current Life & Achievements:
Imon is passionate about taking on more challenges. He has won several awards for his achievements in digital marketing, including the "Best of the Best" and "Most Valuable Professional". Not only that, he has built a strong reputation over the past years as a leader in the digital marketing field. At several industry events, he has been recognized by his peers as a top SEO expert and speaker. With demonstrated experience in SEO, Imon has worked with clients across a wide range of industries including Digital Marketing, Affiliate Marketing, SMM (Social Media Marketing), and more.
Imon recently entered the WEB 3.0 saga with the responsibilities of initiating marketing growth for numerous Crypto/Blockchain projects and NFT projects, helping them with his innovative SEO and SMM strategies on big social media platforms like Google, Facebook, Instagram, Twitter, Discord, Reddit, Telegram, and others.
Imon has also helped many companies to find success online and earn a high ROI. Additionally, he has worked with Various Start-up Brands and companies from different countries of the world as an SEO and Digital Marketing Expert. The strategies that he applies increase exposure to a wider audience. His analytical problem-solving process that can be applied to a wide variety of situations to solve problems. It includes five steps: Defining the problem, identifying possible causes, evaluating possible solutions (or alternatives), implementing one or more solutions, and evaluating the effectiveness of the solution. In his role as a mentor, Imon can motivate and inspire people with his words or actions. In addition, he loves collaborating with clients to find unique ways for them to expand their businesses. His creativity, Analytical skills, innovative strategies, expertise, and hard work established him as an SEO expert in the SEO industry.
For additional information, visit the website: https://seohackmastery.com
Media Contact
Company Name: DotMirror Limited
Contact Person: Rakibul Hasan Razu
Email: Send Email
Phone: +8801558575757
Country: Bangladesh
Website: https://dotmirror.com
Read more: https://www.digitaljournal.com/pr/meet-seo-entrepreneur-shahe-imran-imon-get-to-know-about-his-inspiring-journey#ixzz7hNeo8oXu